Wash properly
How to wash your textiles in an efficient manner!
Significance of the care symbols
The care symbols are displayed on the labels of your textiles. They explain how to properly treat your textiles when washing or dry-cleaning. Our table explains the meaning of the symbols - those which are relevant for the application of our products - and what you should do when you see a certain symbol on the labels of your textiles.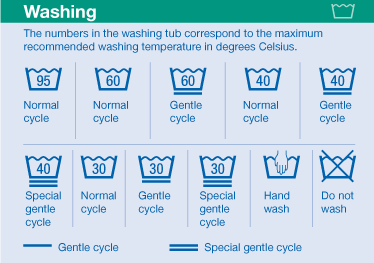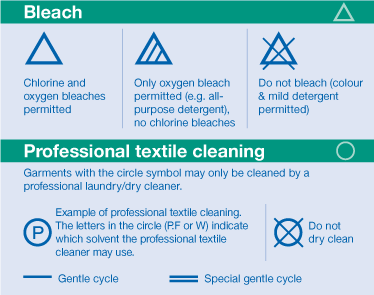 Energy-saving washing
Today's detergents and modern washing machines are so powerful that they clean textiles already at lower temperatures. Stubborn soiling or stains usually dissolve too, if the laundry was well pretreated. Who washes laundry often at 30°C or 40°C, saves not only own energy costs, but also helps the eco-balance. With only one temperature level lower per wash load, all German households could save annually 1.3 million tonnes of CO2 (source: IKW [German Cosmetic, Toiletry, Perfumery and Detergent Association] Washing at 30°C).
To keep your washing machine free of germs when washing with colder temperatures, you can operate your washing machine once in a while at 60°C - or you use in addition Dr. Beckmann Washing-Machine Hygiene Cleaner with Activated Carbon. It was especially developed for this purpose.
Sorting laundry
Sorting the laundry is also an important step for good washing results, because it helps to protect the colours of your textiles. Separate your white textiles from your coloured textiles before you start washing. You may sort your coloured textiles also by bright and dark colours. As an alternative, you can put a Dr. Beckmann Colour and Dirt Collector sheets in the drum.
Using the correct dosage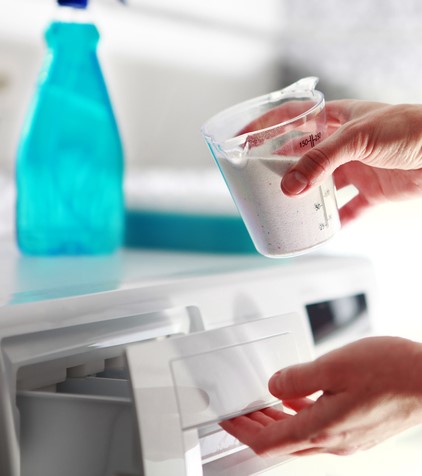 Water hardness & degree of soiling
The dosage recommendations on the packaging are average values. With heavy duty and colour detergents, they are based on a load of 4.5 kg and with mild detergents on a load of 2.5 kg of laundry. Moreover, the recommendations relate to a normal degree of soiling and average water hardness. Consequently, you should inquire the level of water hardness from your municipal utility company and take also the degree of soiling of your laundry into account. The loading capacity of washing machines differ greatly depending on the model. If your washing machine has a larger drum for more volume, the detergent dosage must be higher at a full load. The same applies to hard water and heavy soiling. With soft water, very light soiling and small drums, you need less detergent.
If overdosed, money is wasted and it may result in less satisfactory washing result because of deposit detergent residues on the laundry. Too little detergent will not clean the laundry properly. Dirt particles remain on the clothes and the clothes become dull. Also, deposits may build up on the heating elements and in the interior of the washing machine. And stains that were not completely dissolved may harden in the fabric so that they are very difficult to get rid of later.
More useful tips
Be careful not to overfill the washing machine, because this can damage the clothes. Friction can cause light spots and damage prints on clothes. Always wash printed textiles inside out. Strongly coloured textiles should be also washed inside out to avoid colour abrasion. When washing machines are overloaded, laundry can no longer move freely around in the drum and a good rinse of the laundry is not possible. This way, detergent residues may remain in the laundry.
Contrary to many assumptions, fast and short wash programs use plenty of water and energy as the washing machine heats up much faster. They are also less effective, because there is not enough time for the detergent to become fully potent.